Just before bed last night I got the full effects of what the English call the
Lime Tree
: The sweet, heavy smell, almost intoxicating, certainly oddly refreshing, but suggestive of excess - edging towards cloying.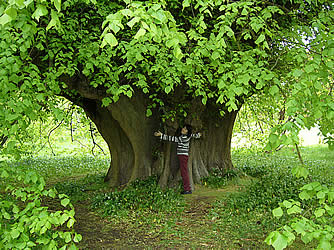 Linden it is known as in other parts of the world - the Romanians call it Tae (or Tee, or Tei or some such unspellablity) - but letting you know, in an unsympathetic to nature, practical way exactly what they do with it.
There is a sort of poet from Romania called Eminescu (bad late Romantic) who wrote:
Pătrunză talanga
Al serii rece vânt,
Deasupră-mi teiul sfânt
Să-şi scuture creanga.
While softly rings
The evening's cool wind
Above me the holy lime
Shakes its branch. (translation: M.G.Jiva) on Wiki

No accounting for taste.
Technorati Tags:
Romania
,
Tilia
,
Timisoara
,
Lime Tree
Powered by ScribeFire.